A sports nutrition enthusiast since his days of studying abroad, Jazrul Fuad stumbled upon his energy bar business by accident.
Seven years later though, Hutan Ration is making its mark in the local and international sporting world.
From corporate to home-office
Upon graduating from the University of Denver with a degree in Economics, Jazrul came back to Malaysia and ran a restaurant together with his wife in TTDI.
Later, he got into the corporate world of marketing and insurance, yet his passion for sports nutrition never waned.
Deciding it was time to seek new excitement in his life, Jazrul quit his job in early 2016. As an avid outdoors person, he was out hiking with his friends when the idea of starting Hutan Ration was thrust into his lap.
He had made some energy bars to bring along on the hike and shared them with his group. According to his recollection, they had eagerly devoured the delicious treat and began asking to be resellers.
Once the initial shock had passed, Jazrul began seriously considering the proposition and took the opportunity handed to him.
He created the brand's social media profile, refined the energy bar's recipes, expanded his network, and got down and dirty in the comfort of his kitchen and dining room. At the start, the marketing and delivery aspects were also handled by him alone.
A problem that pushed him forward
Eventually, the one-man show became too much for Jazrul to handle. At a point, he even wished orders would stop coming in, "Just for me to have a breather," he said.
Something had to change, and the business needed to step up if he wanted it to be sustainable in the long run, so he started looking for solutions.
Hutan Ration's first priority was to obtain halal certification, which would help to establish the brand and widen its market in the Malay-Muslim community. However, the problem was that a halal certification required the business to have an official business premise.
It was then that Jazrul remembered a factory owned by his family in Terengganu that wasn't being fully utilised. It wasn't a decision without its risks, but it was one done quite easily after weighing all the pros and cons.
"Besides, Terengganu is known for its unique sports culture, especially cycling," Jazrul said.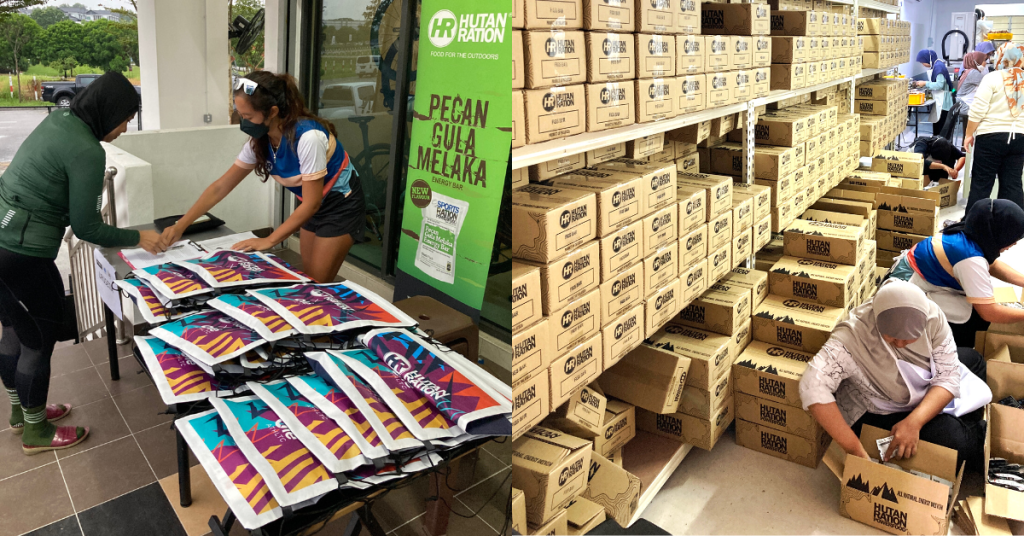 The ride can be bumpy sometimes
Since that life-changing decision, Hutan Ration has only grown stronger and more diverse as a brand. The Terengganu-based startup now makes about 25kg worth of energy bars in its factory per week. The brand also produces granola and protein balls on top of its main offerings.
Its prices start around the RM6 mark for single units, but it appears that the products are commonly sold in bulk.
When asked what is Hutan Ration's edge in a field that is largely dominated by well-known overseas brands easily found in supermarkets, Jazrul explained, "Ours are made from natural wholesome food, [are] HACCP and halal certified, and more sports focused."
Of course, running the business has not always been light and breezy. The biggest challenge faced by Hutan Ration happened during the COVID-19 lockdowns, where nobody was allowed to participate in outdoor activities, which meant zero sales.
Jazrul turned the situation around by focusing on supporting and getting the public to donate Hutan Ration's energy bars to the frontliners. This was done by working with locals and different bodies of NGOs.
As a result, the brand was not only able to stay afloat, but also got better at streamlining its operations and improving its SOPs. This goes to show that adaptability is a much-needed skill to have in any career.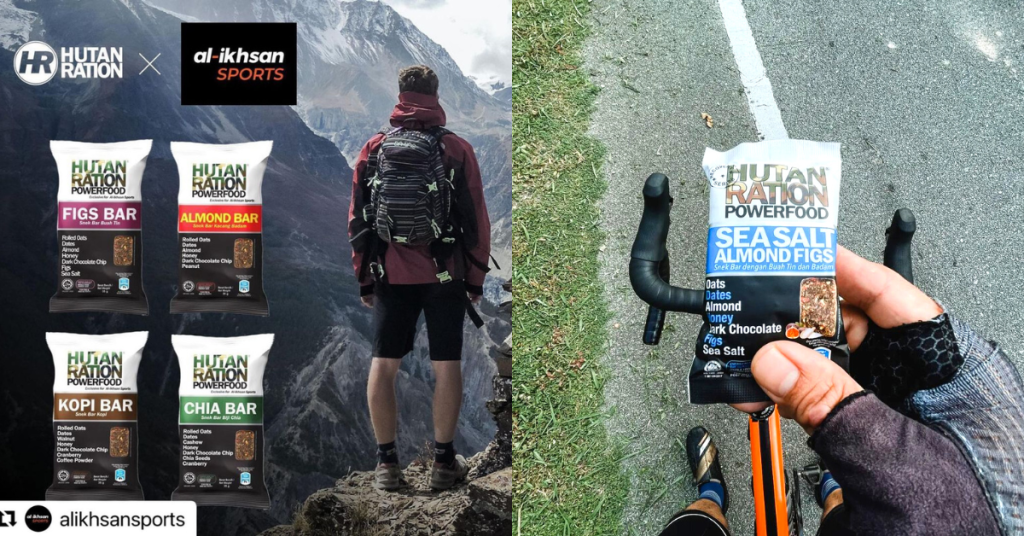 It pays to find your people
In terms of marketing, Jazrul finds having multiple avenues and platforms to be the most effective, especially when targeting a niche market of sporting buffs.
Of course, the general public can also consume its products on a daily basis when in need of an energy boost.
The brand started off being promoted through social media and influencer marketing. Its first ambassador is none other than Malaysia's national cyclist, Azizulhasni Awang.
Over time, the brand grew to engage with sports teams and sports communities, as well as sponsor local sporting events. Their most recent collaboration is with al-Ikhsan, a reputable Malaysian sports retailer, to produce a few energy bars specially crafted for its customers.
Go big or go home
Having already expanded Hutan Ration's reach to Singapore and Brunei, Jazrul is eyeing Dubai and Thailand for its next phase of growth, as he believes they're easier markets to penetrate.
"It's a matter of finding the right partner to work with for each region," he added.
In the long run, he's working towards making Hutan Ration the premier halal sports nutrition company worldwide, something he's been aiming for since its launch.
"It's our dream to see our brand in the Olympics and World Cups. But to reach there, I believe there are many areas where we would have to improve ourselves," Jazrul shared.
He also hopes to one day be able to provide biodegradable packaging to Hutan Ration's customers, as he'd like the brand to become a sustainable company that focuses on the environment.
Article courtesy of vulcanpost.com